Today I am going into detail about how to effectively plan keywords when building a website or doing Search Engine Optimization.
Keyword Research
Step one in choosing keywords is research. Keyword research should start with a thoughtful consideration of what your target market might be searching for that would be applicable to what you can provide for them. In almost all cases anymore this search begins at Google. It is for this reason that your most valuable resource when choosing keywords is a free service called Google Adwords.
Within Google Adwords, use a tool known as the keyword planner. It manages paid and organic keywords that are used to generate relevant ads and results from Google searches. It can provide you critical information such as keyword ideas, search volume, cost per click, and competition level.
Set up a free account here!
https://www.google.com/adwords/?channel=ha&subid=us-en-ha-g-aw-c-bk_hv_exa_1!o2-69678485-237617727300
Once logged into the keyword planner start by entering general terms applicable to your site and use the "get ideas" button to return specific keyword ideas that are similar to your initial inquiry. Each keyword is provided with information regarding the level of competition, as well as monthly search volume estimates. I've included an example in the screen shot below.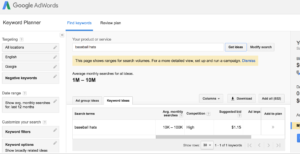 Although Google Keyword planner is the most common tool when evaluating keyword ideas, there are many other sites that may be able to provide you with meaningful information. Another great tool that I would recommend is UberSuggest.
You can check them out here! https://neilpatel.com/ubersuggest/
Look at that, you're already on your way to finding the best keywords for your website!
Now what do you do with your keywords?
How to use Keywords
As you begin implementing keywords into your content it is extremely important that you understand a little bit more about how current search engines work. The process of ranking use to be much more primitive and involved Google simply scouring your page for isolated search terms.
It is now the goal of Google and similar search engines to understand the context and theme of a search. Rather than looking at what is being said, Google is trying to decipher what is actually meant.
What this means is that we need to focus more on the usage and placement of keywords, rather than sheer repetition.
Keyword Placement
Now that you have chosen the best keywords for your website, the next step is knowing where to place them. When it comes to implementing keywords in your website there are a few primary locations that need to incorporated.
Content
First, the content needs to be filled with your best keywords. A common metric associated with this principle is something called Keyword Density, which is the ratio of the number of times that your keywords are used divided by how many words there are on you're page in total. Higher numbers are generally better in this ratio, however remember that it is important to use them appropriately
URL
Your URL is a great opportunity to associate your website with your organic keywords!
Title
It is important to include your title as a keyword placement as it carries more significance in ranking than any single placement in the body paragraphs. Its kind of like you get double points in this category!
Description
Again, this category packs a punch. When Google explores identifying information such as titles or descriptions, it is absolutely crucial that they find your best keywords.
Images
A less common location that should be mentioned is in the titles of the pictures that are featured on your website. Any file that is present on your website is being indexed by Google. It is important that even at first glance the contents can be easily identified or understood.
Thanks for reading, and good luck optimizing your website!!!