Build Links to Improve Rankings
You've invested considerable time in creating a website, developing amazing content, and are ready to relax while the traffic rushes in. Well, not quite. To rise in the search rankings and boost your site's performance, there may be a missing link, or rather – links! Link building is the practice of marketing your site to acquire links from other sites, and it is a critical piece of the SEO puzzle.
Search engines use links to crawl and index the web, navigating between pages using their interconnected links. As part of this process, pages are evaluated for how well they should rank for relevant keywords in the search engine results. It's not just a page's content that matters; according to The Art of SEO, "links remain the single largest factor in determining search rankings."
Understanding Backlinks
Links to your page act as a digital endorsement from other websites – they demonstrate your site has a level of trustworthiness and relevance. Additionally, these inbound links, or backlinks, determine how often and how deep search engines crawl the site. The more external links you have directed to your page, the higher your chances of ranking well in the results. However, not all links are created equally. Link value is determined by several factors. These include a site's PageRank, anchor text, relevance, authority, and trust. Unsurprisingly, a backlink is more meaningful and valuable when it comes from a high-quality website.
Link Equity a.k.a. Link Juice
The value that is passed between links from one webpage to another is called link equity – also commonly known as link juice. This link juice is a signal used by search engines to rank pages. Assuming it is relevant and high quality, the more link juice flowing to your website, the better. Let's consider an example with your website along with your top competitor's website.  Your website has backlinks from five external sources and your competitor's site has backlinks from three sources. All else equal, your site will rank higher due to the link juice it's receiving from more external sites. 
Scenario 1: You win!
Still, it's important to note that link juice is a finite resource. If those five websites that link to your site also link to other websites, you receive a reduced percentage of those sites' link juice. In this case, if the three websites linking to your competitor's page don't link anywhere else, your competitor may rank higher due to the percentage of link juice it's receiving.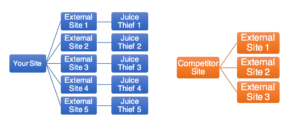 Scenario 2: Better luck next time…
How to Develop a Link Building Campaign
You may be wondering how to start building links for SEO. Here are five steps for developing a link building campaign:
RESEARCH & EVALUATION The first step in a link building campaign is to research and evaluate potential websites that may link to your page. Identify the different types of sites that might link to your site – media outlets, blogs, universities and colleges, related interest sites, and even sites that currently link to your competitors. While you won't have access to these sites' analytics, you can still generally assess the value these links may provide. To do this, review the homepage's PageRank, perceived authority, relevance to your website, and existing number of outbound links on the linking page. Target the most valuable sites that are likely to be interested in you as well as link to your site. Don't forget to leverage existing business relationships for links as well. Get listed as a preferred/recommended vendor, be referenced in case studies, and engage on social media.
COMPETITIVE ANALYSIS Use online SEO tools to generate a list of sites that link to your competitors' pages. Once you have this information, look at their most valuable links to better understand their link building strategy and to find opportunities for your page. Perhaps they've found success partnering with bloggers, received media attention for their products/services, or received links from authoritative and trustworthy government sites. While these ideas can provide inspiration, avoid replicating your competitors' tactics exactly. Do not build all your links from the exact same sources. Rather than sharing link juice, explore ways to differentiate yourself using their tactics as a frame of reference. Be sure to update your list of potential sites to receive backlinks from.
REVIEW DIGITAL ASSETS Now it's time for some self-reflection. Evaluate the existing content on your website and map out what new content you could create – especially with your wish list of sites to build high value backlinks from in mind. Again, the key is differentiation. To stand out and attract high quality links, you'll need to create unique and engaging content that is relevant to your audience. Write a blog or article or create compelling images, infographics, and/or videos. Try to offer valuable references or resources, or develop unique widgets or tools. Create sharable and engaging social media content, or earn attention from bloggers and media outlets. Generating relevant, timely, and engaging content can be a challenge on short notice. Keep a running list of content ideas for future development. Also, watch for trends on social media to capitalize on. Always look for inspiration based on what your target audience and potential backlink sources are engaging with.
LINK PROFILE ANALYSIS To effectively build links for SEO purposes, you must know what links you already have. You must also know how you rank for certain keywords compared to competitors. This will help determine what new links you need as well as influence your content development strategy. Moz outlined various types of links to consider. These include links to your homepage, links to deep pages, links containing your brand/company name, and links containing the keywords you're targeting.
CONTACTING POTENTIAL LINKERS After completing these steps, strategize how to best connect with your target list of potential backlink sources. Direct methods of link marketing include email, social media messaging, blogger networking, and in-person networking events. Indirect methods of link marketing involve presenting exceptional and sharable content that inspires readers to naturally link to your page. These can also be supplemented by public relations, mentions of your company in news feeds, speaking at conferences/events, and running social media campaigns.
Link building for SEO purposes is essential to the success of your website. It should be an ongoing process of evaluation and modification. Now you have the tools to develop and execute a strategy to increase your site's performance and ranking. Prepare to watch your traffic increase – if you link build it, they will come!