Social Media Marketing and SEO Strategy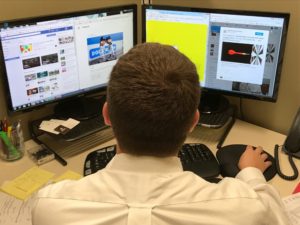 Getting Started
Congratulations on starting your own business!  You have come so far and in a perfect world, you could finally take some time off and relax.  However, there is still plenty of work to do.  How's your website?  Are you getting the desired traffic you would like?  Is the content good enough?  And maybe something you haven't thought of in depth: Are other bloggers and websites providing links to your site? Sounds like you need to improve your social media marketing . Gaining the necessary trust and having more websites link to yours can improve your SEO strategy and having a social media strategy is imperative to do this.
Why Having a Social Media Plan is Important
You feel the content on your website is extremely useful and accurate and that may very well be the case, but in order to start ranking high on search engines, there is a lot of criteria you need to meet.  One important thing to ensure is that the words and phrases on your website match what your customers are searching for.  Another important factor to consider is getting credible websites to link to your own website; this is known as link building and brings great SEO value which signals to search engines that your website has good credibility.
What role does social media play in SEO and link building? "Building an expansive network of inbound links has long been the bedrock of SEO. The more people link to your site, the more trusted it is in the eyes of Google and other search engines. And social media is unprecedented in its ability to build links in a hurry."[1] Throughout all time, you could build business and credibility through word of mouth and in-person interaction.  This method is still applicable today, but social media makes this much easier.
The major social media platforms, including: Facebook, LinkedIn, Instagram, twitter, and Pinterest have hundreds of millions of users and provides a massive social setting that you can leverage in building your business!  According to the New York Times, "the most effective way to build that following is to find readers on social networking sites like Facebook and Twitter, an approach known as social media optimization. That could improve the quality of articles, they say, because the best way to get links on Twitter is to write a story people want to share with friends."[2]
How to Build a Successful Social Media Campaign
Remember that you are using social media to get people to your website. Don't lose sight of this.  Before you start posting on social media, make sure the content on your website is in order.  This includes having the necessary keywords to appeal to the search engines.  Your goal is to have the words and sentences situated in a manner that answers the searcher's questions and meet the criteria of Google's algorithms.  Piece of cake, right?
The first thing you need in creating a social media strategy is followers! The more followers you have the more your content is exposed.  How do you do this?  Start by complaining on Facebook and posting a selfie on Instagram and your work is complete!  Just kidding!  However, your goal is to get the people who do those exact same thing to follow you.  Start by posting similar content that is on your website to your social media platform.  The process might be slow at first, but can gain steam.  Do not feel the need to go and follow thousands of people in hopes of return follows.  A smarter way is to carefully select individuals and groups you feel are relevant to the content on your site. Once identified, message them individually letting them know about your content.
Using social media for business is not a bad thing, but it can be if you send too many messages, especially if the content is poor.  Its important to note that most all social media site links are "nofollowed", so those links will not help you in the area of SEO marketing. The goal is quality over quantity when reaching out to people on social media.  If these messages to individuals or groups are done tactfully, your reputation, specifically amongst bloggers, should start to grow.  Remember, one of the end goals is to obtain quality links to your website.  In this endeavor, "Social media is useful because it encourages more external sites to link to your content, and the more diverse external links you have, the more authority you'll gain in Google's eyes."[3]  This will be the case as long as the content on your website is high quality.
Another way to obtain quality links to your website it by reaching out to your local media.  Try reaching out to local newspapers and news stations.  These stories are yet another way to add credible links to your site.   Analyze how your product helps people and then contact journalist to see if they are interested in learning more.  Post this content on social media and link them to your website.  By so doing, traffic will improve and your SEO ranking will follow suit.
A word on Google+ and how it can help link building
If you're like the average social media user, you don't often use Google+.  However, this platform can be an integral piece in the puzzle of "how to grow your business?"  "Why does Google+ matter? The information, images and other elements on your Google+ profile can directly improve your rankings in several relevant searches. Further, our contact and location information can heighten your visibility for people searching for a local, nearby business. A Google+ profile also makes for a high-quality link to your website, and trustworthy links are always helpful."[4]
How to Approach Marketing in Social Media
With so many platforms in the world of social media it can be tough to know where to begin.  First recommendation: do your research!  Start exploring and learning all you can about various social media platforms.  From there, see which one makes the most sense for you.  Are you targeting new mothers? Instagram and Pinterest might be the way to go.  If you're targeting professional business men and women, maybe LinkedIn and twitter would be better.
It is time to recognize the power of social media in improving your SEO strategy!  By understanding the massive opportunity and presence social media can provide, linking it back to your website, building the necessary relationships, and getting more credible and legitimate links attached to your website, you will come to know just how powerful and profitable the connection between social media and SEO can be.